Isotopes in the Geosciences
Core Facility Solid State Mass Spectrometry in the Geosciences
Mission statement:
The precise determination of the isotopic compositions of a variety of elements is a widely applied tool in the geosciences. Isotopic ratios in extraterrestrial and terrestrial rocks are used to quantify and date geological processes that occurred between the onset of solar system formation (around 4.5 Gyr ago) and the present time. GeoIsotopes is a Core Facility at the Department of Lithospheric Research the University of Vienna devoted to examining these processes with a focus on cosmochemistry, impact science and early Earth studies, mainly applying the 87Rb-87Sr-, 147Sm-143Nd- and 187Re-187Os isotope systems, among others.
Services:
The GeoIsotopes Core Facility offers access to state-of-the-art equipment devoted to high precision determination of Sr-Nd-Os (and other) isotopic compositions using two thermal ionization mass spectrometers (ThermoScientific Triton TIMS and ThermoScientific Triton TIMS XT), and as well a ThermoScientific iCAP RQ ICP-MS for the determination of trace element concentrations and the determination of selected highly siderophile elements via isotope dilution in conjunction with isotope ratio analyses. Additional equipment includes two clean-room facilities for low-blank wet-chemical sample treatment, two high pressure ashers, and weighing rooms.
Besides supervision and education of young academics, the GeoIsotopes "Core Facility" encourages research cooperations.
Requests:
For requests please contact: massenspektrometrie.dfl@univie.ac.at
Infrastructure
Clean Lab
The Core Facility has two state of the art clean laboratories for low-blank isotope analysis. The laboratories comprise six clean-air working spaces, MQ-water supply, acid distillation equipment, centrifuges and hotplates. So far established methods include 87Rb-87Sr und 147Sm-143Nd analysis as well as the 187Re-187Os system and isotope dilution generated concentrations of highly siderophile elements (Re, Ir, Pt, Ru, Pd). In addition, the geochemical laboratories at the Department of Lithospheric Research are complemented by a weighing room and one laboratory equipped with two high pressure ashers.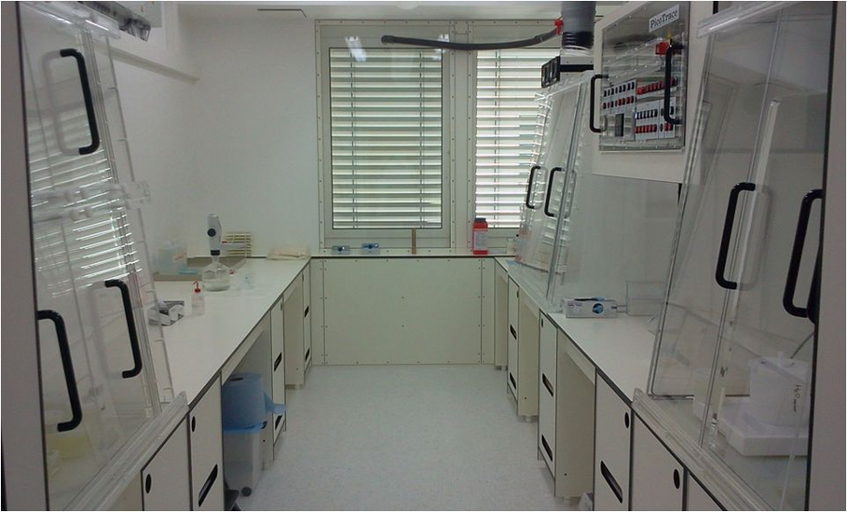 TIMS
Two ThermoScientific TRITON thermal ionization mass spectrometer
TIMS
equipped with 8 Faraday cups and one secondary ion multipler for the analysis of Sr-, Nd-, Os, and W-isotope ratios.
TIMS XT
equipped with 9 Faraday Cups and one secondary ion multiplier for the analysis of Sr-Nd-Os and W isotopes. The TRITON XT is additionally equipped with several 1013 Ohm amplifiers.

ICP-MS
The iCAP RQ ICP-MS is a mass spectrometer with inductively coupled plasma, which can be used for the determination of trace element abundances in geological samples (e.g., rock-, mineral- und soil samples). The iCAP is equipped with two auto samplers, several sample introduction systems (e.g., Aridus3) and a helium KED (kinetic energy discrimination) filter (for the elimination of polyatomic interferences). Besides solution-ICP-MS, the iCAP can also coupled with laser ablation for in situ trace element analyses of rock thin sections.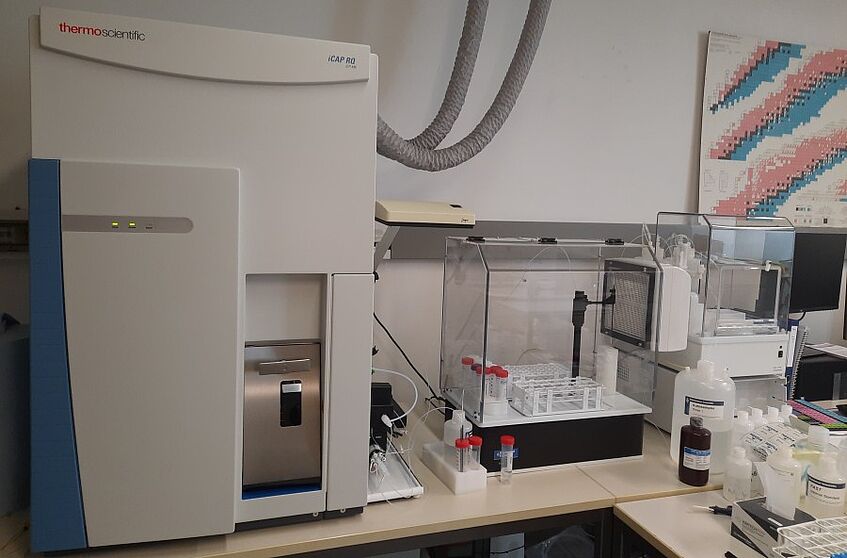 Team